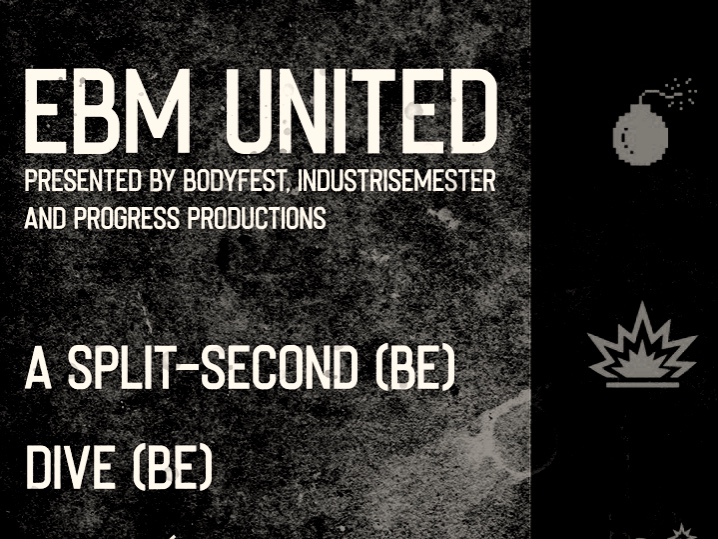 Bodyfest/Progress Productions/Industrisemester & Slaktkyrkan/HUS 7 proudly presents EBM UNITED.An eventing of hard electronic, EBM and industrial music in Stockholm's slaughterhouse area. Prepare for a night of mayhem.
Slaktkyrkan acts:
A Split-Second (BE)
Dive (BE)
Cryo
Spetsnaz
Lucifer's Aid
Hus 7 acts:
Alvar
Severe Illusion
Kinder aus Asbest
Nuclear Sludge


A SPLIT-SECOND (BE)
Hallelujah! Praise Buddha, Shiva and Osiris – A Split Second are back again after they conquered Bodyfest in 2014. Old men, sure, but these guys are a fantastic live band and always deliver a suberb experience for mind, soul and BODY. A hard-hitting and energetic show combined with tons of great hit songs is what we can promise to those who didn't see the show in 2014. Be sure not to miss "Flesh", "Mambo Witch", "On Command", "Rigor Mortis" together with hypnotic live versions of "The Colloseum Crash" and "Colonial Discharge". This will be a gig to remember….again.
DIVE (BE)
Ever since The Klinik went in hiatus, in late 2014, Dive has been the main focus of Dirk Ivens. Dive started out in 1990 and with minimum equipment this one man project creates maximum power. From the self-titled debut in 1990 to the latest album "Where do we go from here" released late 2020, we have been served a meal with primitive, harsh industrial music. Be prepared for a mindblowing and epileptical gig with an exceptional front figure who since a very long time is a legend in the EBM scene.
CRYO
They have played festivals all around Europe such as Amphi, WGT, E-Only etc. and have positioned themselves as one of the strongest Swedish exports within heavy electronic music. They have toured Russia, Germany and have joined the VNV-Nation tour as special guests but never really focused that much on playing within Sweden. The latest album "The Fall of Man" have gained fantastic reviews and was nominated on Manifest to "best synth release" of the year. Sonic Seducer choose "The Fall of Man" for one of the best album year and more recent, Cryo released the EP "Valium" which is to be heard on all alternative channels around the Globe. We are very pleased to add Cryo to the EBM United family.
SPETSNAZ (SE)
Last we heard of Spetsnaz was a cancelled show with Subkultfestivalen this summer. Eager to hear these masters of Old School EBM we will of course serve you with a most awaited re-appearance in Stockholm. Last time in the capital was Bodyfest 2012 and that is way too long for a band with endless hit songs, great sense of humour and crowd-pleasing performances. True Swedish old school gnäll EBM is coming your way.
LUCIFER'S AID (SE)
Ever productive hardware specialist Carl Nilsson has really made a name for himself during the last couple of years. With an album per year since 2016 we are of course expecting another one coming late 2019 and the success is not likely to slow down. Carl breathes and dream of EBM 242 hours a day and the next album, after that, is surely already on the drawing board. Harsch and evil industrial EBM that is becoming a regular element among European festivals.
Nuclear Sludge
Nuclear Sludge is the pseudonym of the Stockholm based producer Jimmy Svensson. Sprouted from a world of punk and industrial music with a DIY aesthetic. A transformation from bass player in punk bands into an industrial machinist. Harsh vocals on top of forceful bass lines and intense rhythmic madness lay the groundwork for his industrial fused electronic body music. Also known for his aggressive and vivid live performances as Yabibo Hazurfa and as a member of Alvar and Æmit. Straight out of Stockholms DIY underground.
Kinder Aus Asbest
Stockholm based Kinder aus Asbest has sporadically appeared on small edition DIY releases, cassettes and vinyls on labels such as Exil-System, Dödsdans, Lux Rec and Electronic Emergencies. Strongly influenced by lesser known synth bands from the 80s he produces a minimal and cold synthpop that sometimes take a darker turn towards EBM and minimalistic experimental electronics.
His live gigs are rare, only a handful the past two decades, and most of them abroad. For EBM-United he will perform a new live set with harder beats and juicier basslines than ever before. Minimal, monoton with banging thunder from the darker side.
Severe Illusion
From Sweden's beautiful capital comes Severe Illusion, a band that has been with us for a very long time. Almost two decades ago, the band's first true full-length album "Discipline is Reward Enough" was released, and everything after that is, as they say, history. After countless albums, and sometimes intense touring, they will be back with newly released material and with the same attitude problem as before. When the band is on stage at HUS 7; it will get chaotic, it will get dirty, and there's nowhere to escape.
Alvar
The devastatingly saturated 4-piece machine Alvar will soon need no presentation. They have never done the same gig twice. They have released music at companies such as Beläten, Daft and Cloister Recordings.
Now heavier, colder and sharper Alvar picks up their collection of scrap and noise and offers intensive ebm, broken techno, pounding industry and some bitter tears thrown in your face