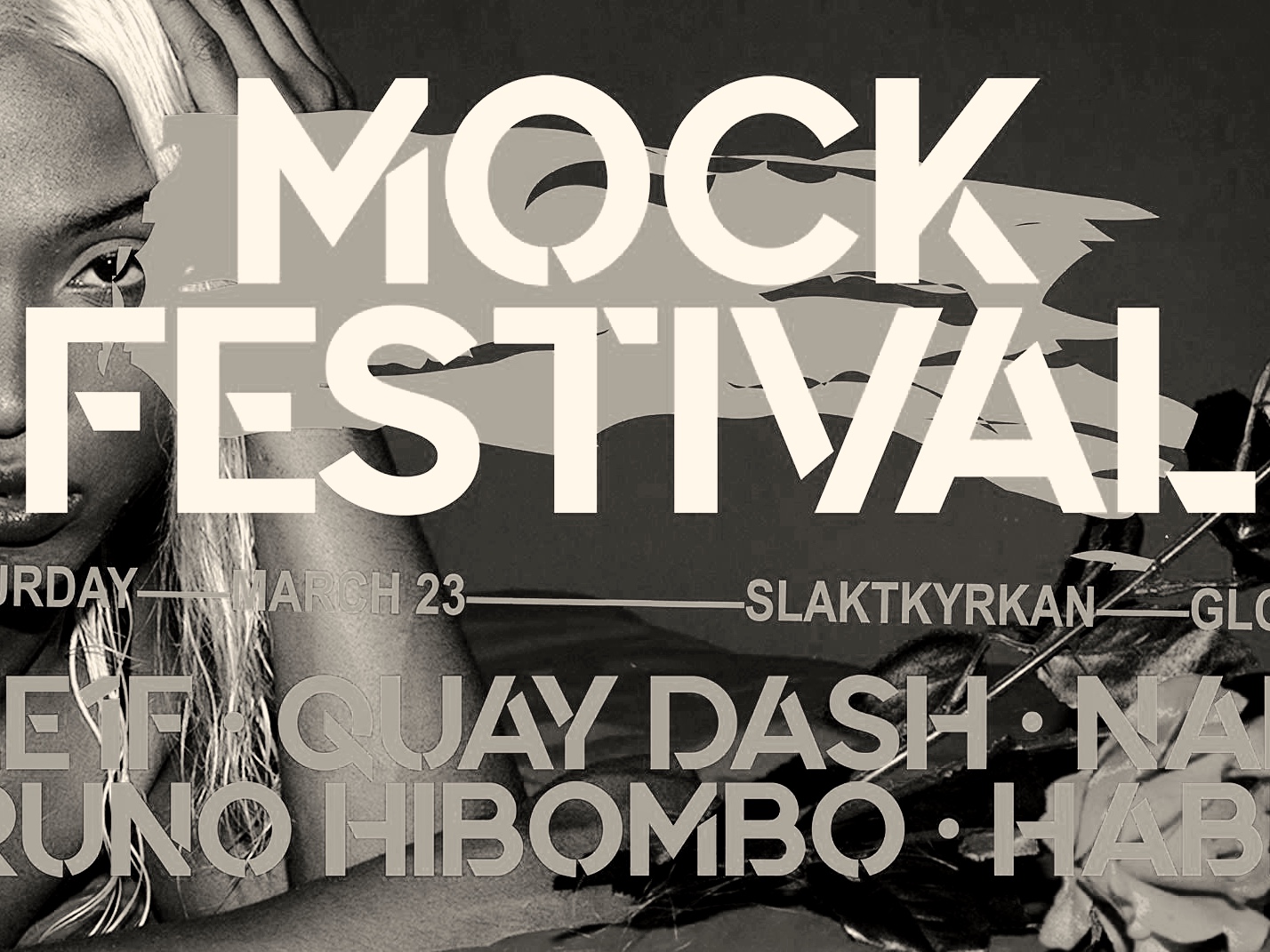 Mock Festival is a new Stockholm-based music platform which aims to highlight queer and PoC artists and performers.
Premiering its first event, a mini festival that takes place during one evening at venue Slaktkyrkan, Mock Festival will be showcasing both local and international artists and performers to give a taste of what is to come in the future.
╱╱╱╱╱╱╱╱╱╱╱╱╱╱╱╱╱╱╱╱╱╱
—————╱ LE1F
Khalif Diouf, better known by his stage name Le1f, is a New York based rapper, producer and label-owner (Camp & Street) that has received critical acclaim for his unique, subversive and unorthodox musical and performance styles. Le1f has toured Asia, Australasia, Europe and America following a series of well-received mixtapes and EPs.
He first became known as a solo artist with the release of his debut mixtape 'Dark York', released in April 2012, with its lead single and 5kinAndBone5-produced "Wut" garnering attention as the standout track from the project and manifested into a music video in June 2012.
In November 2015, Diouf released his first full-length studio album 'Riot Boy' on XL and Terrible Records. The album features contributions and production work from artists such as Evian Christ, Junglepussy, Balam Acab, Lunice, Boody, SOPHIE, Dev Hynes, and Dubbel Dutch, among others.
∞ https://soundcloud.com/le1f
———╱ QUAY DASH
Quay Dash is a rapper and a solo artist from the Bronx, New York City. Her work looks into her experiences as a Black transgender woman living in modern day America and she has named Lil' Kim, Remy Ma and Foxy Brown as her past influences.
Quay has performed and played DJ sets at nightclubs, concert venues, and art galleries across the United States and Canada. She released her mixtape 'Satan's Angel' in April 2017 and later on released her first project, her EP 'Transphobic', in September 2017.
She promptly joined Peaches for her North American tour after the release of 'Transphobic'. The same year, she also released the track 'Queen Of This Shit' produced by PC Music affiliated SOPHIE, and 2018 saw the release of tracks 'U.A.F.W.M' and 'New Bitch'.
Quay currently resides in Lower East Side, Manhattan.
∞ https://soundcloud.com/quay-dash
————————╱ NAR
NAR is an artist, music producer and DJ from Los Angeles based in New York City that creates music which fuses Middle Eastern soundscapes from their Persian heritage with club-bass undertones from their American upbringing. The artist's unconventional aesthetic pushes boundaries of both sound and the visual through their work and collaborative projects like 'Burqa'.
Recently, NAR caught the attention of Rihanna, composing original scores for the latest Fenty Beauty by Rihanna campaigns. Last year, NAR was also commissioned by Fenty Beauty to produce a soundtrack and direct a music video, resulting in a collaboration with artist and girlfriend Cheeky Ma on a track titled 'Saucy'.
In the works is a remix album of their solo debut 'Jujeh' EP (Doom Dab), featuring tracks by NAAFI artists and more. Upcoming projects include a full length album, a remix EP, music videos, collaborations and official remixes.
∞ https://soundcloud.com/narrokh
———╱ BRUNO HIBOMBO
Bruno Hibombo is a Swedish musician with Portuguese and Ugandan roots that, up until recently, produced mostly piano-based music. Almost three years since his last album release, Bruno Hibombo's songs have now taken an interesting turn to center a different instrument — the guitar.
The tracks on his upcoming album revolve around a group of different characters trying to escape reality, and the songs will be performed with a full live band with 4 other musicians.
Bruno's first record 'Battles' was released in 2012 and is a compilation of bedroom ballads written by the piano. It was followed by 'Dunes' in 2015, consisting of songs with a more raw, live-recorded sound.
The new works are less sentimental, more direct, energetic and upbeat, with a pervading playful vein.
Bruno will also be releasing a new music video very soon.
∞ https://soundcloud.com/brunohibombo
—————╱ HABIB1
The Stockholm-based producer and DJ duo HABIB1, consisting of friends Katherine Zevallos and Tina Mofidy Rouhi, is a fairly new star on the Swedish club music scene but have already garnered a significant amount of attention after their first EP 'Selfish' was released on Cherish Label and premiered on The Fader.
HABIB1 have DJ:ed at various venues around Sweden as a duo and continue to work together to push the boundaries of experimental dance music with their high-octane, bass-driven productions.
They recently released a track and music video for 'Technogäri' on SVT, produced tracks for Swedish reggaeton-influenced artist Princess Prada, and plan on releasing yet another EP soon.
∞ https://soundcloud.com/haabib1
╱╱╱╱╱╱╱╱╱╱╱╱╱╱╱╱╱╱╱╱╱╱
————╱ 180 KR
——————╱ 18+
—╱ 21:00—03:00
——╱ Slaktkyrkan
———╱(T) Globen
Tickets: http://www.tickster.com/events/trxrpb99lfplnxv
With support from Stockholms stad.