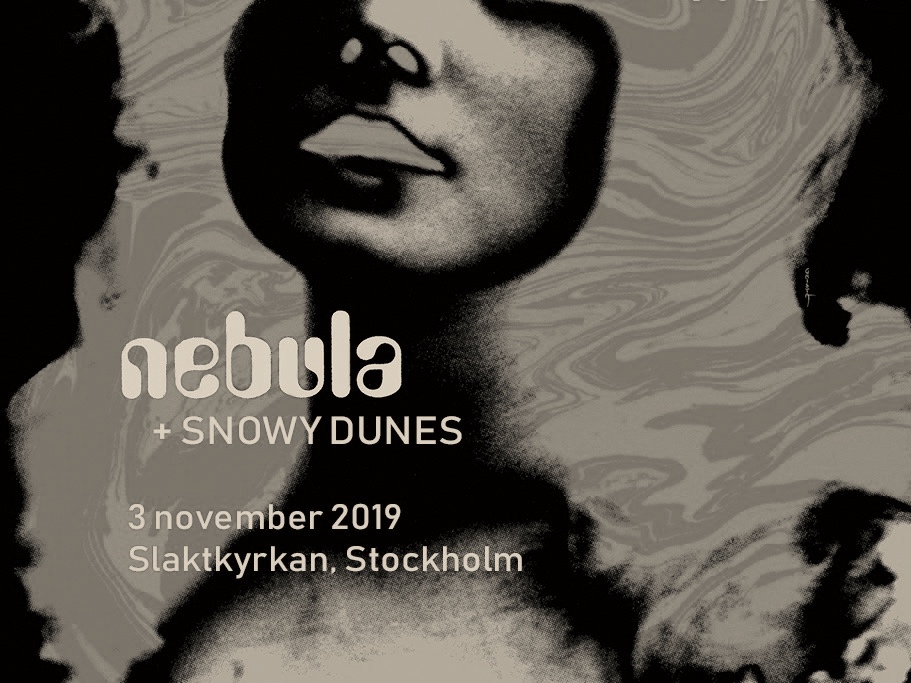 NEBULA + SNOWY DUNES
3 November 2019 at Slaktkyrkan, Stockholm
Fuzz! Psychedelia! Stoner rock!
NEBULA
22 years after their first release and 10 years after their last album, Nebula are back. And you're thinking "Holy shit!" right now, you pretty much nailed it.
NEBULA creates pure guitar-driven, conscious expanding stoner rock for the 21st century. They are a culmination of their rock forbearers such as Jimi Hendrix, MC5, The Stooges and Mudhoney turned up a notch, taken to the next level and blasting through space. NEBULA spread their gospel through their music and what they are preaching will leave the congregation on the floor.
• Spotify: https://open.spotify.com/artist/3fe36ZJP5Og68Ji1VUMLgE
• Youtube: https://www.youtube.com/watch?v=9SHGZwpIxIU&list=RDEMNipcoO5JrVk4HFg8I84t_Q&start_radio=1
• Facebook: https://www.facebook.com/NebulaBand/
• Web: https://atomicritual.com/
– – –
SNOWY DUNES
A four piece psychedelic rock outfit hailing from Stockholm, Sweden. Even though created out of the love for vibes of old, Snowy Dunes is a unique blend of vintage hard rock, 60's psychedelia and the fuzz rock of today.
Being a hard working DIY band and known for an intense live act, Snowy Dunes have eagerly performed shows all over Europe and brought their fuzzy psychedelic rock to new fans all over the globe.
• Spotify: https://open.spotify.com/artist/10do1FRShQdKPJ4RuIY4LX
• Bandcamp: https://snowydunesofficial.bandcamp.com/
• Youtube: https://www.youtube.com/results?search_query=snowy+dunes
• Facebook: https://www.facebook.com/Snowydunes/
• Web: http://www.snowydunes.com/