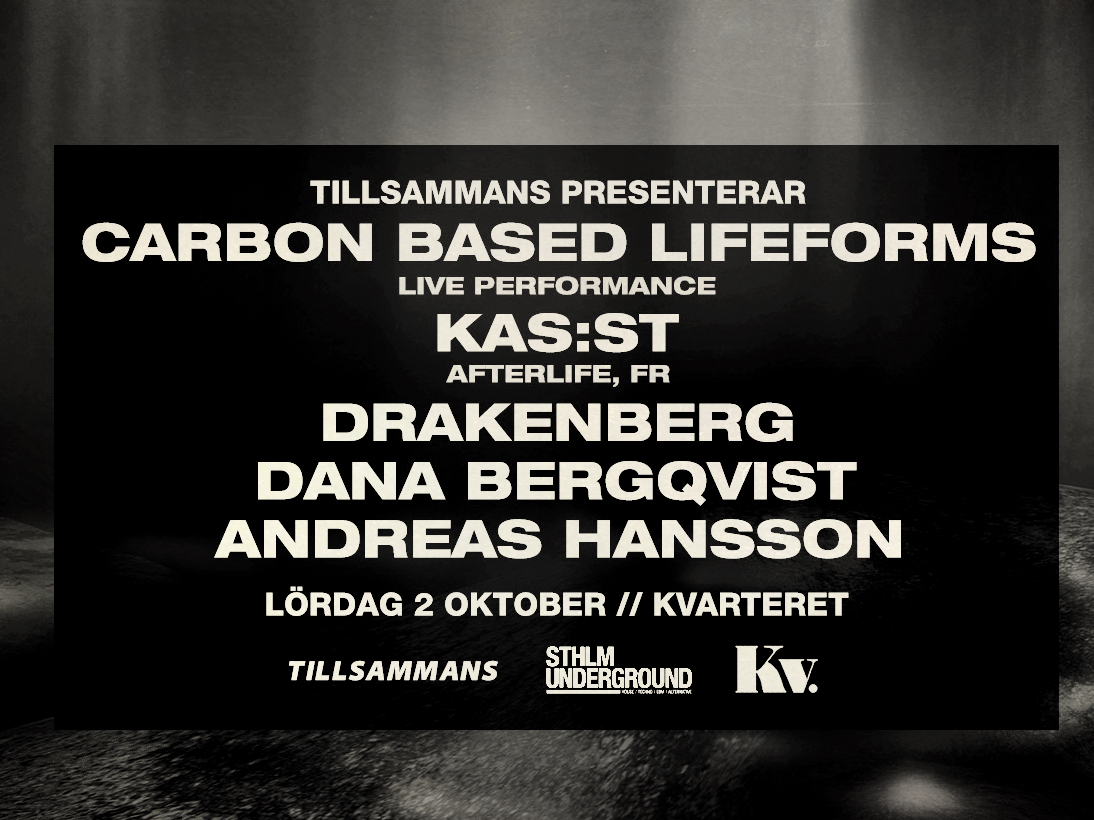 𝓣𝓱𝓮 𝓓𝓮𝓮𝓹 𝓑𝓵𝓾𝓮
𝓣𝓱𝓮 𝓛𝓸𝓼𝓽 𝓑𝓸𝓻𝓭𝓮𝓻𝓼
𝓢𝓸𝓾𝓷𝓭𝓼 𝓭𝓲𝓼𝓼𝓪𝓹𝓮𝓪𝓻
𝓲𝓷𝓽𝓸 𝓲𝓷𝓯𝓲𝓷𝓽𝔂.
𝓨𝓸𝓾 𝓯𝓮𝓮𝓵 𝓯𝓻𝓮𝓮 𝓲𝓷 𝔂𝓸𝓾𝓻 𝓶𝓸𝓿𝓮𝓶𝓮𝓷𝓽
𝓯𝓻𝓮𝓮 𝓲𝓷 𝔂𝓸𝓾𝓻 𝓼𝓸𝓾𝓵…

Welcome to a celebration of life., music and dance…
This time we go to the deep blue for nine hours of an audiovisual experience and the most forward thinking electronic music out there.
We start the evening with the brilliant and sublime live act Carbon Based Lifeforms who will perform a unique concert to celebrate the re-opening of dance clubs in Sweden.

They are followed by a wide range of carefully selected djs and artists..
We end the night with Tale of Us new favourite duo, KAS:ST.
The Parisian duo take on epic techno and house are if you ask us the best music released on Afterlife.More detailed presentations of all acts will follow shortly on the event wall.

ℂ𝕒𝕣𝕓𝕠𝕟 𝔹𝕒𝕤𝕖𝕕 𝕃𝕚𝕗𝕖𝕗𝕠𝕣𝕞𝕤 [Leftfield Records]
𝕂𝔸𝕊:𝕊𝕋 [Afterlife] ℙ𝕒𝕣𝕚𝕤, 𝔽𝕣𝕒𝕟𝕔𝕖
𝔻𝕣𝕒𝕜𝕖𝕟𝕓𝕖𝕣𝕘
𝔻𝕒𝕟𝕒 𝔹𝕖𝕣𝕢𝕢𝕦𝕚𝕤𝕥 [OH]
𝔸𝕟𝕕𝕣𝕖𝕒𝕤 ℍ𝕒𝕟𝕤𝕤𝕠𝕟 [OH]
𝕄𝕠𝕣𝕖 𝕒𝕣𝕥𝕚𝕤𝕥𝕤 𝕒𝕟𝕕 𝕕𝕛𝕤 𝕋𝔹𝔸
Tickets:
https://secure.tickster.com/sv/ngauk6tkcw1m296/products
20 % of the profit from this event will go to an organisation commited in their work to save the precious and beautiful lifeforms in our oceans.
The people attending will vote for which organisation they want to support.